Slide Queen is a presentation agency based in London run by Marie Louise Denti and Elena Bobbola: we make the magic happen between you and your audience.
Presentations are your company's business card, just like the handshake of the salesperson or the smile of the receptionist answering the phone. Don't miss the opportunity to make a good impression on customers and suppliers.
PowerPoint doesn't need to look so boring.
Presentations are strong visual impact document that allows you to tell and spread your idea. The most important thing about a presentation is its effect on your audience: how they feel and the result you get as they listen to your talk or read your document.
CREATING A CONNECTION WITH YOUR AUDIENCE WILL ALLOW YOU TO MAKE YOUR PRODUCTS STAND OUT FROM THOSE OF YOUR COMPETITORS, HELP YOU FIND PARTNERS, SUPPLIERS, AND COLLABORATORS, SPREAD YOUR COMPANY VALUES, AND WIN COMPETITIONS.
FIND OUT MORE ABOUT SLIDE QUEEN PROJECT AND WHAT WE CAN DO FOR YOUR BUSINESS.
In business, we go beyond bullet points.
We help you design compelling presentations that clearly and directly achieve your goals: simple to understand and easy to remember.We turn your ideas into memorable talks supported by powerful scenography. We use design thinking principles to transform your words, images and data into stories that engage and convince audiences. We design templates that work that are easy to use. We create clear and effective presentations that get straight to the point and speak to your audience. We work in PowerPoint, Keynote and Google Slide.
In the classroom, we work with method.
Are you afraid you will never be able to do without us again? But no! Because through our training courses, which are constantly immersed in the reality of your company, your team will quickly become independent.


Thanks to our method, your presentations will be an effective, persuasive and memorable tool. We build training courses tailored to your company's needs that deliver immediate results for executives, employees, and customers.
Ps. we tell you a secret, it will take you half the time.
MEET OUR PRESENTATION EXPERT TEAM. DISCUSS YOUR PROJECT AND GOALS.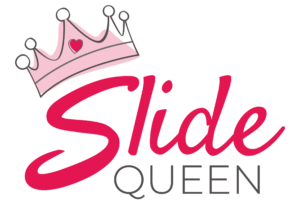 Slide Queen is a brand that we carry forward with passion and enthusiasm.